2010-07-28 00:34 - General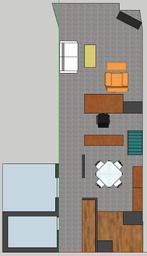 Here's a floorplan I made, in Sketchup, of my new place. The outer edge is generally accurate, measured better than to the inch by me. The greyish spots are internal walls and support columns -- and yes, that one in the middle of nowhere is supporting the corner of the loft in the upper area. The bluish thing on the right is the stairs up to the loft. On the lower left, the bottom is the bathroom and the upper is the kitchen, with none of their details sketched in.
The wood-ish spots at the bottom are the insides of the closets, uncarpeted. The wood-ish rectangles are furniture, some in place and some planned. Then there's the more detailed models, stuff I found in the catalog of available models, generally close enough to but not quite the right size for my real furniture.
There's a few more details than this early diagram, but this gives a pretty good idea of what things are like.