2010-11-24 03:32 - General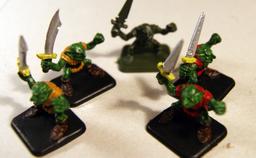 Phew! I took a shot at painting four goblins all at once. I expected to get partway through and be too tired to continue. But in almost exactly four hours I managed to complete them all, seriously improving over my previous average hours-per-figure.
I'm not sure if I just know what I'm doing a little better, if having the larger group meant less wasted time switching colors, some of both, or something else. But I'm starting to feel like I can really get this done. Especially since I don't really
need
to paint every single piece to have a perfectly playable set.