2020-05-11 22:44 - General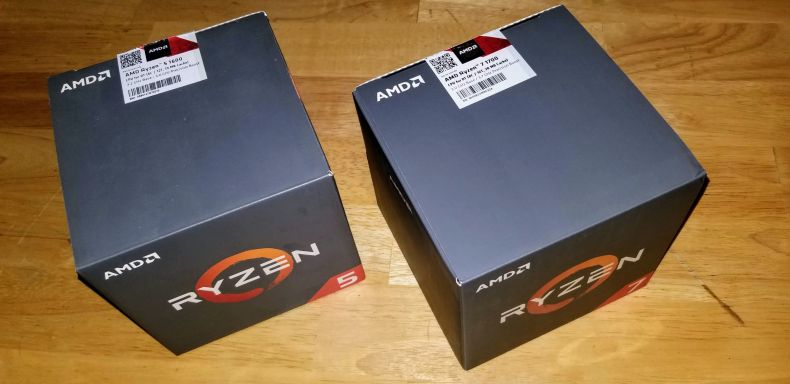 In late 2017 I broke and replaced my server computer at home. It was in a partially working enough state that I could wait a while, so it was mid January of 2018 when I finally bit the bullet and bought parts to assemble a whole new computer (except the drives, which I kept). At the time the best bang for my buck was an AMD Ryzen 5 1600 CPU, along with a compatible motherboard and RAM, and other assorted things.
Having just been through a small nightmare to get the server to work fully again, I was very happy when that was done. There were a few small oddities. It would crash when idle, which turns out to be a strange power management thing. And more rarely it would fail under load as well. It took until just last month for me to realize that segfault under load is a known failure for (early?) Ryzen CPUs.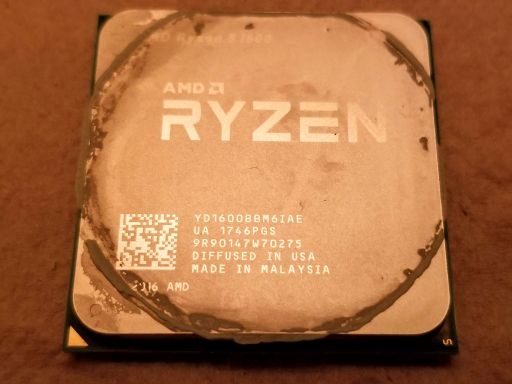 So I contacted AMD, on the 19th. The RMA request was approved and I shipped this, pictured, CPU back to them. The second line of text there UA 1746PGS tells me, among other things, that this was from 2017, week 46. That was a little worrying — only "early" 2017 CPUs are supposed to have this issue. According to rumors online. But I had to take everything apart to get this picture to know that fact, so I was nearly committed anyway. I delayed shipping it until the 27th. It was clear that I'd have to wait for shipping in both directions, and processing in between, with no CPU in my server — which holds all my files! I was seriously thinking about buying a new replacement no matter what, and selling whatever they shipped back to me, later.
In researching what exact replacement I would pick up, I discovered both that Microcenter is open (despite global pandemic), and that they had the best priced option. I came very close to heading there to grab one the weekend before I shipped my CPU away. But I realized: I can go visit them any time. I can be patient, and waste money on a new and extra part only if and when it becomes desperate, without much delay. So I took my server apart and shipped the CPU away.
I had the tracking number, which I watched eagerly. It was delivered on the 1st of May, according to FedEx. On the 4th I get an email that the "return processor has successfully passed the inspection and your replacement product is now approved". It's been a full week, but I guess that's good news. On the 5th I get a message that the replacement was shipped. And that's it. No tracking number.
Today, the 11th, the replacement arrived. To my surprise, it's a Ryzen 7 1700. I paid $200 for my CPU just over two years ago. If I look today, the price seems to be $250 (it might be limited old stock making pricing strange, this is an older model now). The newer/better 5 3600 costs just $130. The replacement costs $320 today (the 3700 is also over $300). It's got a slightly lower base clock speed (3.0 vs 3.2 GHz), but eight instead of six cores. And it came in a retail box with new cooler and everything. I was not expecting an upgrade, but for multiple weeks of doing without my server it's a nice perk to have ended up with.