2008-09-07 20:10 - General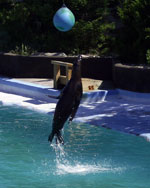 Coney Island is near its end of days. It was supposed to be shut down last year, yet kept going for one more. Being the last year it's supposed to be open, we (me and my Mom) went to visit, both for the first time, to celebrate my birthday this year. It also turns out, today is the last day that Astroland is open.
So, most of the time we were there, we were actually in the aquarium. We walked down the boardwalk a bit, saw it and went in. Spent a few hours there, and I lucked out to grab this great shot of a sea lion performing a jump. We walked around the rest of the area a bit too, and almost went to ride the Cyclone. But, being the last day, quite a few people had that idea; the line was WAY out of the normal area onto the sidewalk. We had been on our feet for hours, and facing the prospect of continuing to do so for, who knows, at least an hour, I wouldn't have been surprised by two, we passed.