2008-08-16 22:54 - General
I posted a while back about my first and second successful geocaching experiences. That was back in April, when I was on vacation visiting my father.
This week, I'm on vacation in New Jersey, visiting my mom, among other things. Today we made it out for some geocaching. We went for two caches, and found both!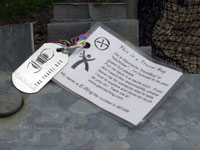 Above is a little map showing the two caches we worked with today. To the left is a shot of the travel bug that we found in that cache. Since we were planning on seeing a second cache that day, we took it along with us. I'd never found any trackables before, so it was quite exciting!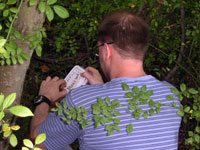 The second cache was very creative. It was designed around a bridge in the area, which has an interesting back story. It was another relatively easy, but still enjoyable, find. If you look carefully at the shot to the left, you'll see a hint of the patchy near-burn I earned on the back of my neck (not to mention my forearms), for hangin' around outside at the fair on Thursday. Not far away from the first, but we dropped the travel bug off here. Another new experience down!