2008-08-11 23:53 - General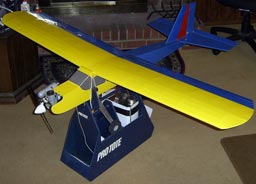 Back in college, a good few years ago now, I bought and assembled this R/C plane. I had done R/C cars as a younger kid, and they're a lot of fun. I had even been in a model plane club way back in grade school, though they were never powered. I finally decided that building, and then flying, a plane would be fun. It took quite a lot of time, but I assembled the whole thing very carefully, and did quite well, I think. It's an Sig Kadet LT-25, a beginner class plane. If you can't tell from the picture, it's got a 63 inch wingspan. It's an impressive beast.
After quite a bit of painstaking work cutting and gluing and so forth, it was done. I took it out to the back of the school's soccer field, with some friends. There was a tiny little parking (probably?) area near the back corner, and there we headed to perform the take-off. There was just one hitch. The rear wheel, used for steering, wasn't aligned well. The plane decided to veer sharply to the left, still on the ground, leaving just enough time to build plenty speed for shearing the front wheels right off, when hitting the curb.
After so much waiting, my patience had worn out. I foolishly handed it to my friend, and told him to give it a gentle loft, from a running start. The good news: it was airborne. The bad news: the by-hand launch wasn't even nearly straight, it was heading straight for some power lines. I managed to avoid them, but in the process, I lost most of what little elevation I had, and was no longer high enough to make it back over the fence. Crash and smash.
Of course, I always intended to repair and fly again. Most of the repairs happened. The fly again, not so much. Well, after all these years spent gathering dust, I've resolved to make the plane fly again! I'm home in Jersey for my traditional week long vacation, the week of the 4-H Fair.
I've dedicated some time for repairs. Most of the repairs, like I said, were already done. I bought some pieces to replace those that didn't make it through the years-long wait, and some fuel. This afternoon, I managed to get the engine started and running, which is a great sign. After a final check for the alignment of the rear wheel, I plan to take off some time tomorrow afternoon/evening! Wish me luck!