2013-07-05 15:03 - General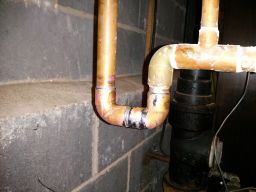 I've just executed a (mostly) successful plumbing repair in my Mom's basement. An old water softener, installed by the previous owners and never used by us, started leaking a while back. We cut it out of the system and I soldered in the replacement parts to bypass it. And it holds water just perfectly!
The "mostly" part comes in with the now removed discharge tube. You can see the black cast iron drain pipe in the background of the picture. It now has a gaping hole where an old PVC part broke off while trying to unscrew it. We need to head to Home Depot and find a replacement piece with the right threads to fill that gap.